Como estudiante de un colegio público, siempre me ha fascinado eso de tener uniforme, sobre todo por la influencia de la televisión. Puede que en la realidad fuesen horrendos y sosos, pero en el mundo audiovisual los uniformes son el outfit más chic con el que puedes pisar el instituto. Ahora que es momento de la vuelta al cole, creo que es interesante repasar algunos de ellos.
As a public school student, I am fascinated by uniforms, and that's because of TV. Perhaps in real life they are plain and awful, however, in fiction, they represent the stylish outfit you need to attending classes. Check it out these «too cool for school» uniforms.
REBELDE (2004 – 2006)
Esta serie se desarollaba en el interior de un internado muy elitista de México, por lo que, obviamente, los estudiantes debían ir en uniforme. El más mítico y recordado es el que combinaba blazers rojas con minifaldas vaqueras y botas altas de tacón de aguja.
Por si no fuera lo suficientemente sexy, llevaban las camisas desabrochadas y anudadas a la cintura. También les gustaba llevar los cuellos estirados, las corbatas flojas y los puños doblados.
The action of this TV show was setting in a prestigious and fancy Mexican boarding school. So that, students had to wear uniforms, obviously! The most iconic was the one with red blazers, denim mini skirts and stiletto heels boots.
As if this weren't sexy enough, girls wore unbuttoned shirts and tied up at their waist. Also, they were fond of outstretched collars, loose ties and rolled-up cuffs.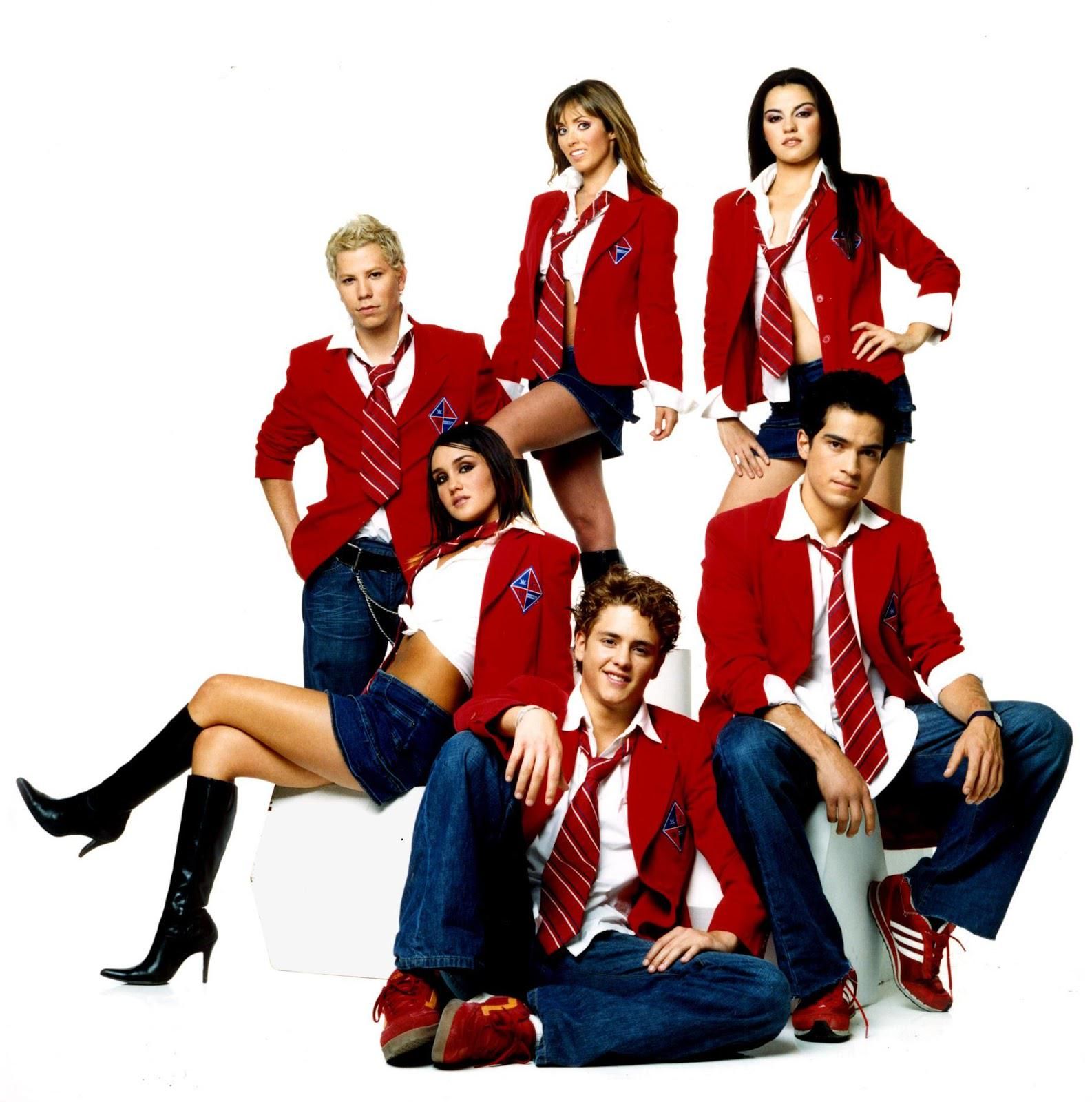 Pero este no fue el único uniforme que llevaron durante el transcurso de la serie. También existía una versión un poco más formal del anterior outfit que consistía en un traje de dos piezas en color negro, camisa azul y corbata roja.
This wasn't the only uniform they wore throughout the series. There was, also, a formal version of the previously outfit. In this case, it was a black suit with pale blue shirt and plain red tie.
Ya hacia el final de la serie pudimos ver a los protagonistas del Elite Way School con un nuevo conjunto. Esta vez, un poco más clásico, con la tradicional falda con estampado escocés, blazer negra, corbata granate, tirantes, boina y calcetines por la rodilla con zapatos de tacón estilo «Mary Jane».
At the end of the TV show, we could see the students of the Elite Way School wearing a third uniform. This time, a little more classic with traditional plaid skirt, black blazer, maroon tie, suspenders, beret and high socks with heeled «Mary Jane» shoes.
El príncipe de Bel-Air /
The Fresh Prince of Bel-Air (1990 – 1996)
En esta mítica serie de los 90, cuando Will Smith se muda a Los Ángeles empieza a asistir a un colegio privado, la Academia Bel-Air. Los tonos grises y apagados del uniforme no concuerdan con la personalidad de Will, que opta por darle la vuelta a su sosa americana azul marino para conseguir un look mucho más colorido y original. Desafortunadamente, no todas las chaquetas tienen un forro tan guay.
In the popular 90s show, when Will Smith moved to LA, he begin his studies at a private school, the Bel-Air Academy. Seemed like grey and dull colors didn't match Fresh Prince personality because he turned over his navy blue blazer in order to achieve an original and colorful look. Unfortunately, not all jackets have a lining so cool.
ÉLITE (2018)
Otro caso de serie ambientada en un colegio «pijo», donde la ropa obligatoria es de color azul, rojo y gris, nada estravagante. No obstante, lo que más me gusta es cómo cada personaje le da su propia personalidad adaptando el uniforme base.
Élite is also set in a posh high school, where the mandatory outfit is navy blue, grey and red, nothing outrageous. Nevertheless, I really like how every character express their personality customizing the uniform.
Por ejemplo, Valerio va con la camisa y la corbata completamente desabrochadas, dejando al descubierto una camiseta interior. Completa el look con un montón de anillos, pulseras y cadenas.
For example, Valerio wears unbuttoned shirt and untied tie, showing his undershirt. He accessorize properly with rings, bracelets and chain necklaces.
Las alumnas de Las Encinas apuestan por broches, cinturones, lazos o camisas ornamentadas para destacar.
School girls from Las Encinas opt for brooches, belts, bows and decorated blouses in order to standing out.
¿Usas uniforme en tu colegio? ¿Cómo es? ¿Cuál de estos es tu favorito? ¡Responde en comentarios!
Do you wear uniform at school? How is it? Which one of these is your favourite? Let me know below!
❤️