¡Por fin estreno esta sección con un chico! Hoy voy a comentar el estilismo de uno de los protagonistas de El Club de los Cinco. Sí, se trata de  John Bender (Judd Nelson), el Criminal y uno de mis crushes desde que vi la película. Todo el look de Bender se puede resumir en dos palabras: CHICO MALO. Así que, vamos a analizarlo punto por punto.
Finally, I open this section with a boy! Today, I am going to review the look of a character from the film The Breakfast Club. Yes, it's about John Bender (Judd Nelson), the Criminal and one of my crushes since I saw the movie. It is possible to summarize his outfit in two simple words: BAD BOY. So, let's analyze it in detail.
1. EL PELO / HAIR
Un must de los chicos malos es, sin duda, el pelo largo y Bender no es la excepción, ya que luce una media melena en la película de John Hughes.
Long hair is a must for bad boys and there is no exception with Bender. In the John Hughes film, he wear a medium-length hairstyle.
2. CUERO / LEATHER
Cuando decimos «chico malo», seguro que enseguida acude a nuestra mente la típica imagen de un guaperas con chupa de cuero sobre una moto y, aunque John Bender opte por la tela vaquera, sí consigue ese toque de motorista gracias a los mitones que lleva.
When we say «bad boy», the typical image of a fuckboy in a leather jacket on a motorcycle comes to our mind. Although John Bender preferres denim, he gets the biker vibes with the mittens he wears.
3. MODIFICACIONES CORPORALES / BODY MODIFICATIONS
Todo rebelde que se precie debe tener alguna modificación en su cuerpo, ya sea en forma de piercing o tatuaje. Nuestro protagonista parece que no es fan de la tinta bajo la piel, pero sí luce distintos pendientes en sus orejas. ¡Cómo olvidarnos de la escena en la que Claire le regala su pendiente para que se lo ponga!
True rebels must have some body modification, either a piercing or tattoo. Our protagonist is not fond of the ink under the skin, but he wear different earrings. How can we forget the scene where Claire gives her earring to him!
4. CAMISETA BLANCA / WHITE T-SHIRT
No sé por qué, pero esta simple prenda de vestir se ha colado en el armario de los chicos malos de Hollywood desde tiempos inmemoriales, desde James Dean en Rebelde sin Causa hasta John Travolta en Grease.
I don't know why but this simple garment is a basic piece in bad boy's wardrobes from Hollywood. From James Dean in Rebel Without a Cause to John Travolta in Grease.
5. VAQUERO Y TARTÁN / DENIM AND PLAID
Esta es una combinación ganadora, se mire por donde se mire. La camisa de franela roja y estampado escocés le da ese toque entre punk y grunge, además de avisarnos con su color de su peligro.
This is a winner combination. The flannel shirt with plaid print is very punk/grunge. Also, the red colour warns us from the danger of this bad boy.
6. ACCESORIOS / ACCESORIES
Bender incluye diferentes accesorios muy interesantes para conseguir ese aspecto alternativo y rebelde: gafas de sol Ray Ban, diferentes chapas y pines (en su abrigo, en la chaqueta e incluso en los mitones) y una bandana anudada en su zapato.
Completa su look con una bufanda de color granate y un abrigo largo de tweed. Dos elementos que, juntos, le dan un aspecto de estudiante de colegio privado que contrasta con el resto del estilismo.
Bender complete his alternative and rebel look with very interesting items: Ray Ban sunglasses, badges (in his coat, jacket and mittens) and a bandana tied in his shoe.
He also add a long tweed coat and a maroon scarf, very private-school-student-vibes in contrast with the other clothes.
Por último, los chicos malos se caracterizan por jugar en el límite de la legalidad, abusando de sustancias no muy saludables y metiéndose en líos. Personalmente, odio el tabaco pero tengo que admitir que no hay nada más sexy que un chico jugueteando con un cigarrillo entre sus labios.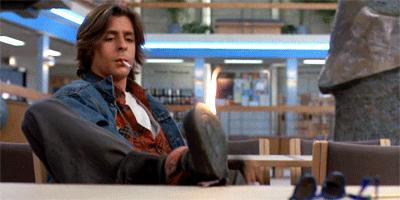 Lastly, bad guys are known by edge misconduct, abusing unhealthy substances, and getting in trouble. Personally, I hate smoke but I have to admit that there is nothing sexier than a guy with a cigarette between his lips.
No olvides comentar, nos vemos pronto
Don't forget to comment, see you soon
❤️